Complex and Sensory Needs Curriculum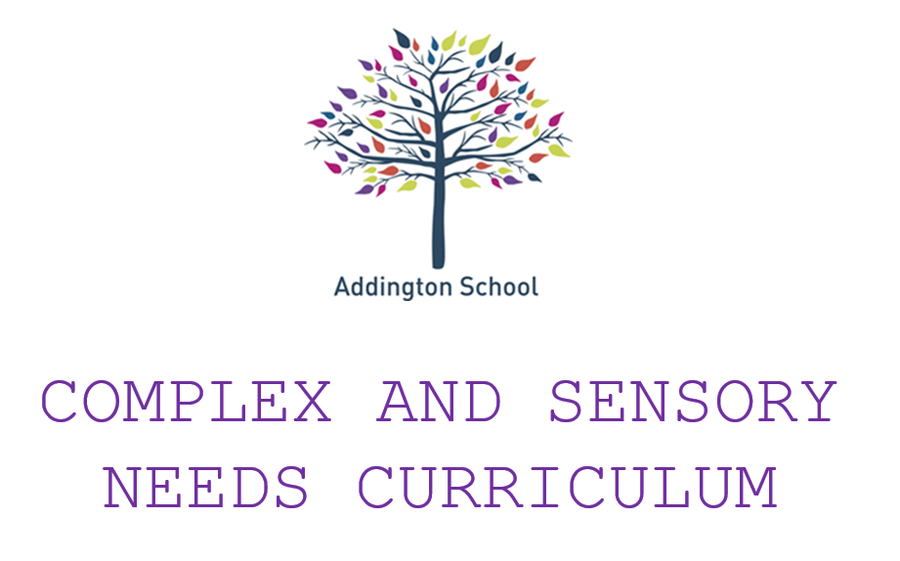 "Here at Addington we are a community committed to excellence and the development of the potential of all"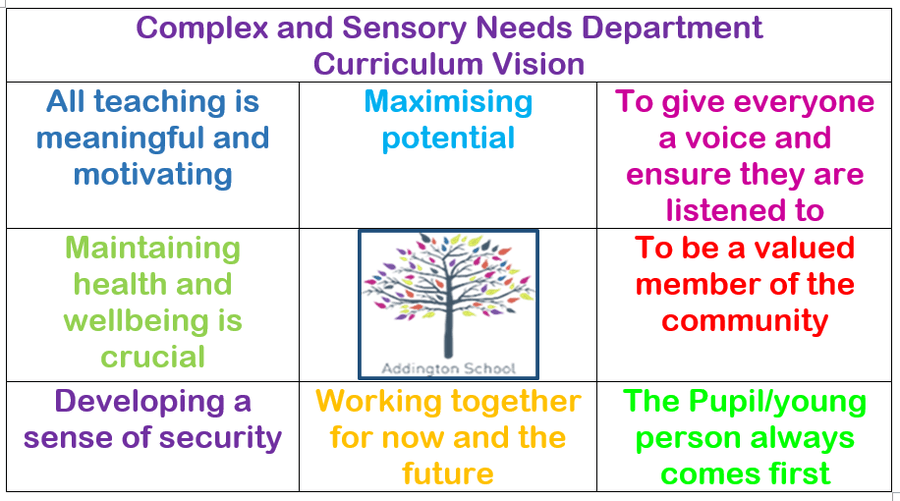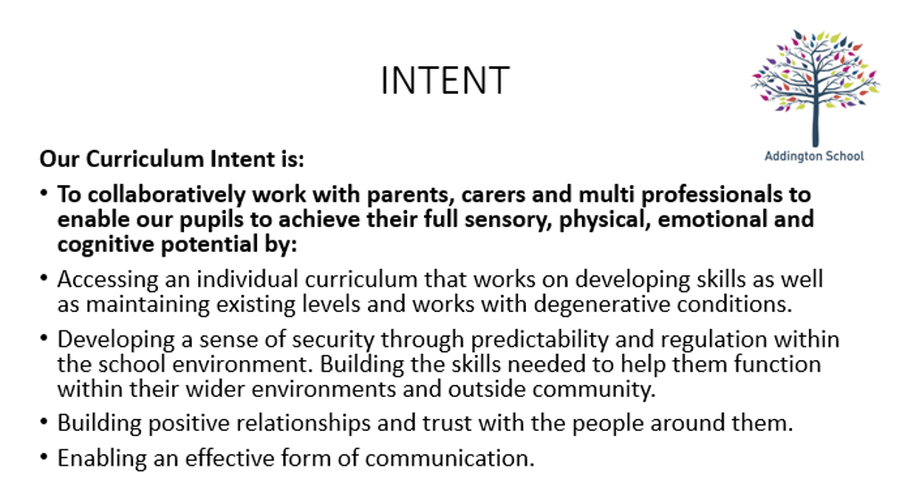 To presume someone is more than they are is not kind, it is prejudice. It is saying this way of being is best, and if you are not this, that is bad. High expectations and presumed competence should never be universal, they should be highly individual and personalised. We should also place them upon ourselves, we should have high expectations of our own abilities to carefully and continually evaluate each person we support as we support them, we should presume ourselves competent at avoiding blanket assumptions either of competence or incompetence. We should be reflective and connected as we support people.
Joanna Grace
Our Curriculum
Our Complex and Sensory Needs curriculum is divided into three areas:
Pre-Formal: Learners following this strand have profound and multiple learning difficulties coupled with high physical and medical needs and sensory impairments. (Cherry, Owl and Poppy Class)
Informal: Learners following this strand have profound learning difficulties coupled with sensory integration and processing difficulties and/or emotional regulation difficulties. (Apple, Birch and Lime Class)
PMBL: Learners in this cohort have profound and multiple barriers to their learning such as a complex medical or physical need coupled with a severe or moderate learning difficulty. (Individual)
Pre-formal
What is PMLD?
People with PMLD are a group of individuals with learning disabilities in the profound range, and have a number of healthcare needs. Their disabilities can present challenges for them and those providing care. The majority are therefore life-long wheelchair users. Many have sensory impairments with either vision or hearing affected. Their healthcare needs are complex and may be life threatening. Family carers routinely carry out intensive 24-hour care to provide support and a good quality of life for their daughter/son.
People with PMLD are a diverse group of individuals with their own personalities, preferences and ways of communicating. The abilities of those described as having PMLD vary considerably. They are one of the most marginalised groups. Due to the multiplicity of their disabilities they are often excluded from playing a full role in society, primarily because our communities are not inclusive enough.
However, PAMIS recognise that 'profound' also means deep, intense, wise and requiring great insight or knowledge. Although many people with PMLD have significant disabilities, they are also teachers, facilitators and can make a great contribution to our lives.
WRITTEN BY PAMIS
Here at Addington we will achieve this through a bespoke pre-formal curriculum that is individualised to the child/young person's needs. This has been developed over that last few years to create a flexible and meaningful curriculum that has the needs of the pupil's first. We work closely with home, respite, therapists and other specialist teachers to ensure a holistic approach throughout the day and also work closely with other areas of the school to create a progressive curriculum that allows for more breadth and content for our pupils as they journey through Addington School.
Informal Curriculum
Addington School recognises that some pupils have profound learning and sensory processing difficulties. These pupils do not have the multiplicity of disability of pupils with PMLD but the impact upon learning and development is as profound.
The curriculum will follow a similar process to the Pre-Formal strand and will be bespoke for each individual through collaborative work with parents, carers and multi professionals. These strategies may include: Intensive Interaction; play; sabotage; flexibility of thinking; sensory integration; Augmentative and Alternative communication systems; Geoffrey Waldon's approaches to early cognition; prompt training, and sensory motor activities to name a few. The learning areas may hold different weight and importance for each individual within their curriculum.
The aim of the informal curriculum is to be meaningful and relevant to the pupils through challenging barriers to learning and teaching skills to support pupils through their adolescent and adult lives. We want our pupils to leave Addington with strategies to: manage stress and anxiety; develop and express autonomy; engage in learning when motivated to explore through opportunities routed in concrete experiences; undertake basic tasks; and communicate with others in an appropriate way commensurate to their needs.
PMBL
Our pupils who have a PMBL have physical and sensory difficulties that mask their cognitive abilities. We create a tailored curriculum using therapy targets and areas from the Addington School semi-formal and formal curriculums to give pupils the academic learning relevant to them. This is enhanced by integration links with our key stage 3 department. Pupils can access literacy, numeracy and science lessons with other class groups in the school. As well as having access to more formal learning techniques, pupils get the opportunity to socialise with other peers who have more developed communication skills. We have found that over the years, our pupils who experience integration, have improved confidence and motivation to use their personal communication devices expressively and spontaneously.
Each curriculum area follows the same pathway and each pupil's curriculum is individualised, based on what is important for them at that time. Short term targets are then created in the Personalised Learning Plans to action and meet the EHCP objectives.
Our Curriculum Areas
We have divided our curriculum into five learning areas:
My Interactions
My Explorations
My Senses
My Movements
My Regulation (Informal Strand)
This table below shows how each activity or subject can be broken down into skills. This table is for guidance and every learner has bespoke skills and targets to work on that are relevant for them.
Wider Curriculum
Lessons are supported by a wider curriculum that includes Music, Rebound Therapy, Hydrotherapy and Horticulture. We also have cross department links with Early Years, Middle School, 6th Form and the Therapeutic Department.
Creative Arts
Our Creative Arts department lead Sensory based music session weekly in our sensory theatre. These contain a range of cause and effect music based music and songs supported by sensory effect lights and Optimusik. Pupils can also have the opportunity to be referred for music therapy and art therapy.
Immersive drama.
Immersive drama is a music and drama themed session that incorporates live music, acting, sensory effects and experiences to our complex needs classes. The themes are linked to cross curricula topics and planned with the complex needs department.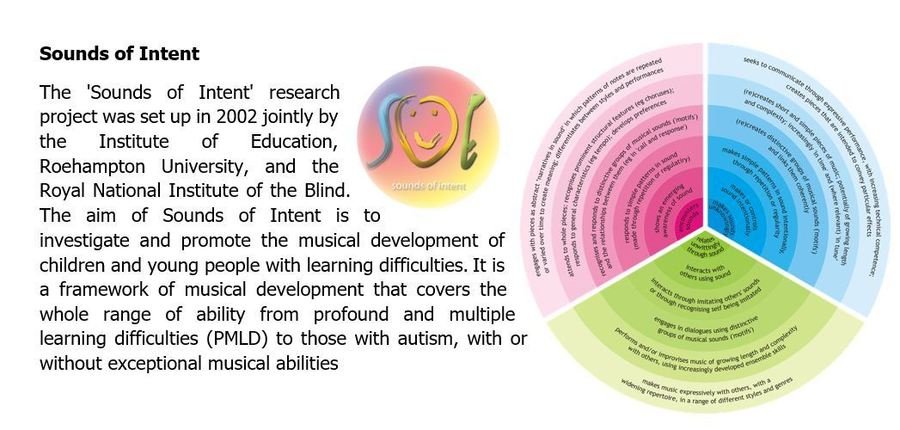 Physical Development
Rebound Therapy
Rebound therapy is the phrase that describes a specific model of trampoline therapy:- exercise therapy which uses a full sized trampoline to provide opportunities for movement, therapeutic exercise and recreation for people across virtually the whole spectrum of special needs. It is more than special needs trampolining or disability trampolining; Rebound Therapy can provide a huge number of potential benefits, including; communication, co-ordination, balance, muscle tone, relaxation, freedom of movement, body Awareness and fun! It can also support internal health such as:

We have a number of staff trained as Rebound practitioners at Addington and use the Winstrada development program.
HYDROTHERAPY
At Addington we have our own hydrotherapy pool, it is kept at a warm temperature to help relax the muscles and as the body floats, it reduces stress on your joints, bones and muscles by reducing the weight-bearing load that goes through these structures. Our pool has sensory lights to support relaxation and engagement. Sessions are supported by a trained member of staff with a national rescue qualification and physiotherapists are on hand if needed to help with water based exercises.
MATP
What is MATP? (Motor Activity Training Programme) MATP® was developed by Special Olympics and is a movement-based sports programme that provides meaningful sport and physical activity for young people with complex physical and sensory needs. It can help reduce the risk of a negative experience in sports. It is made up if four core sport specific MATP® skill areas:

Sports day at Addington is differentiated to allow our more complex pupils to be able to be part of the experience. Where appropriate, pupils have the opportunity to access soft play to develop gross motor movement. There is also access to a range of gross motor equipment on the playground. Pupils also have the opportunity to be referred for sensory circuits to support them with their regulation through movement.
Horticulture
At Addington we have a horticulture area where pupils are actively involved in growing, looking after and selling any produce. Complex and Sensory Needs classes have the opportunity to take part in lessons in the greenhouse to explore and coactively plant and take care of plants. We use what we have grown to make crafts and gifts for parents and carers on special occasions.
Outdoor learning
The outdoor environment is used around school and planned and resourced the same as an indoor lesson. Some classes have an outside courtyard that is used as an extension of the classroom. Here we have activities such as stories, music sessions, messy play and sensory trails. We also have access to a seaside courtyard on the upper floor of the school and access to the sensory garden on a weekly rotational basis.
We have been working with the Museum of English Rural life in Reading to help enhance our school grounds to create more accessible areas for our Pre-formal learners.
Some classes also have the opportunity to go on regular off-site trips to TVAP and Camp Mohawk or to explore the local area.
Planning
Our planning follows a thematic approach on a rolling programme. Each theme has a Medium Term Plan that shows the stimuli that we will be developing skills using. The thematic approach enables pupils a wider variety of experiences within the learning. Whilst some pupils may be working on skills for long periods of time, this approach ensures variation in how these skills may be taught or developed and gives opportunities for generalisation.
Teachers meet on a regular basis to plan collaboratively and produce an Activity plan, adapting as necessary to meet the individual needs of each class.
Class teachers then use each individual pupil's Personalised Learning Plans (PLPs) to produce a PLP pack which forms the bulk of the planning for each individual child. These packs breakdown into further detail the specifics behind each of the pupil's targets and how to support them to achieve these.
The combination of the Medium Term Plan and the PLP packs contain information on the progression of skills and the use of objects for the term.
Theme Map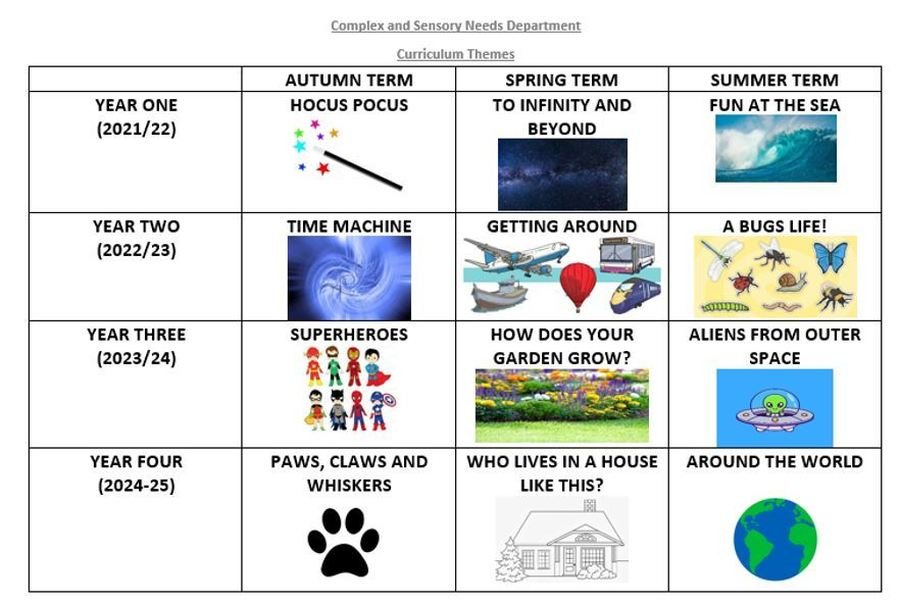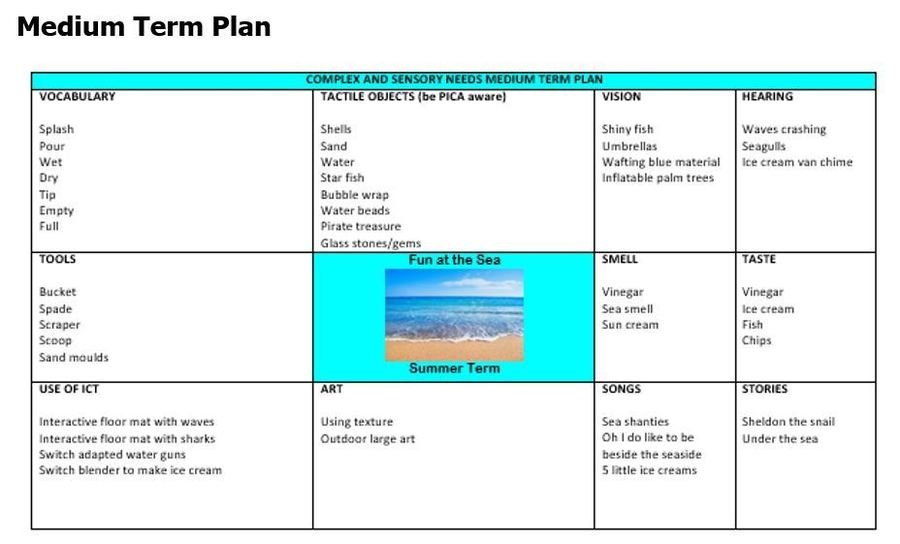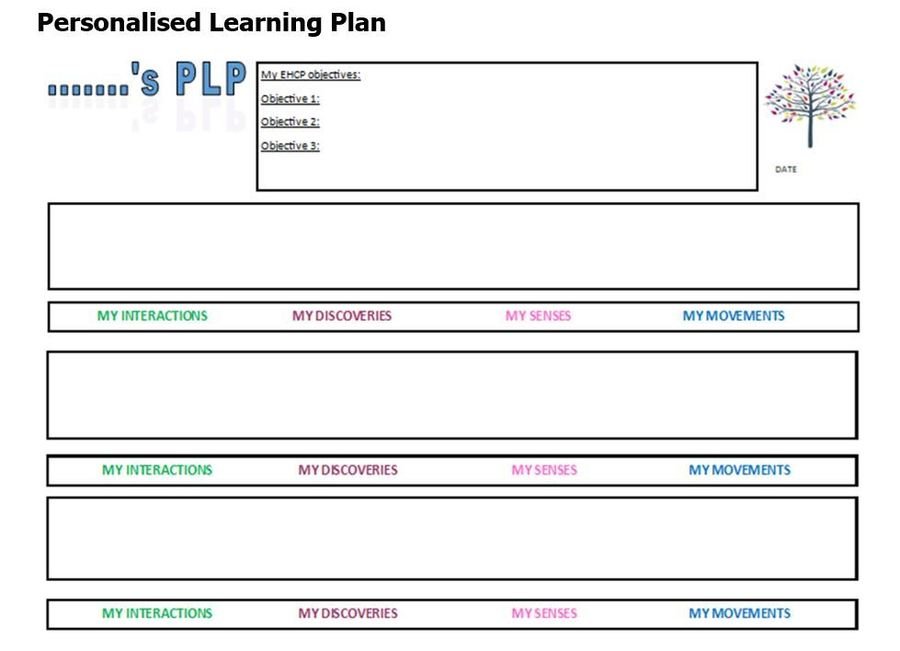 Curriculum Map
Each curriculum area follows the same pathway and each pupil's curriculum is individualised, based on what is important for them at that time. Short term targets are then created in the Personalised Learning Plans to action and meet the EHCP objectives.
SCHEMA
Schemas have been developed to support teachers in their planning and assessment to support with next steps in development and target setting. These cover a range of areas and use existing guidance and pro-forma such as Routes for learning (Welsh gov) Each learning area has a series of skills that pupils may be working on, this skill is then broken down into smaller steps. Pupils will only be working on skills that are relevant for them and are able to work at their own pace and direction.
Learning is monitored through capturing the process on the Earwig assessment app to show a timeline of progress. The EHCP outcomes and PLP targets are recorded on the pupil's timeline to allow each piece of evidence to be tagged to the target. This makes it easier to find evidence when needed. Pupil progress is reflected on each term with a member of SLT, and regular therapy meetings where appropriate, these meetings then inform next steps and updates to the individuals PLP's.
IMPACT
What we want for our learners when they leave Addington:
Each learner will have made progress relevant to their need. Whether that is maintaining what they have, making progress or being able to maximise opportunities in degenerative skills.
Families will feel supported and know where to find help.
Each learner will be a member of the community with a voice.
They will be valued for who they are.
Their lives will go beyond just being cared for.